It was Thursday late afternoon and I was rushing to meet a deadline and finish the article for the column I write in a Franciscan Magazine out of Sarajevo, Bosnia and Herzegovina.
When my editor in chief sent out the email to all the contributors a few weeks ago, he announced the topic of the issue would be "music and the role it plays in our lives". And he also said: "As usual, each of you is welcome to write about any topic of your choosing (except Tajci)."
I could have filled the whole magazine with all I have to say about music and why it's important in our lives (LOL).
So I wrote about the power of music to move us, heal us, and connect us with the Divine (on top of bringing us joy, making us dance, or uplifting our spirits when we are down.) I described a few examples from my life (including some from my childhood) and stopped just before I wrapped it up with a conclusion.
It was time to go to my sons' Winter Concert, where they were performing with their school orchestra.
They had told me to get there early and get a nice seat in the front section. I argued against it, since I like to sit toward the back because it's higher and I can see them in the back of the orchestra (both play percussion). But they insisted, and I complied.
Three pieces in, Evan and Blais walked to the center area in front of the stage where a marimba and a vibraphone were set up. Then their teacher and conductor announced that the "Cameron brothers" were going to play a piece he had hear them practice each morning before other students would come in. The entire semester, my sons had been going to school extra early to practice a piece of music they were about to perform!
I blinked fast trying to clear my vision from a surge of tears, holding my phone steady while video recording what was happening.
Everyone got quiet and the music started.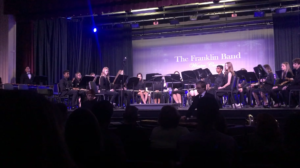 It's impossible to put into words what I felt…
I just know it was an intense mix of feelings of love, joy, gratitude, surprise, undeserving and deserving at the same time, grace and divine beauty. Each note carried something straight out of my sons' hearts and reached into mine.
I thought, "how did I ever get to be so lucky to be their mother?"
At the end, the whole auditorium leaped to their feet (including the band kids on stage)! And then their teacher added that they dedicated the song to my mom and me.
I almost missed this concert – as it was supposed to be scheduled for another night when I was also performing. But because of some Divine intervention, I got to experience this – and make it the best Christmas present ever!
SPEAKING OF MUSIC AND GIFTS…
(I don't usually do this, so I'm a bit nervous writing it.)
Please consider making a small donation toward the work I've been sharing with you/
I love writing this newsletter each week, and I don't plan to stop or ever charge you for it.
I love sharing the music and singing on live FB chats, for which you don't need to pay a ticket. I love working on new projects and investing time and money into publishing books or organizing sailing retreats.
But life with three sons is expensive, and running a business is not free either. I have a lot of cost associated with running my business (and trust me, I'm very good with money and can stretch pennies and get deals).
So… IF you are enjoying the weekly emails, and if you are able to make a small contribution toward my work, here are a few ways you can do that:
1. Join my
Patreon page
and receive perks (that include free books and CDs and a special holiday discount of my merchandise).
2. Make a one time donation
here.
3. Buy products from my webshop 
here.
4. Please share our Facebook and Instagram posts and invite your friends to follow us 🙂

Tatiana "Tajci" Cameron is an award-winning music artist, published author, inspirational speaker, and certified transformational and spiritual life coach.
She has many passions and is dedicated to helping others while also creating an enriched life for herself and her three sons. When Tajci is not on the road performing gigs, she volunteers with local organizations dear to her heart, spends time with loved ones (often involving music!), and collaborates with other artists to bring creative projects to life.
Tajci's most recent projects include a meditation CD, an annual retreat & sea cruise in Croatia (that she organizes and hosts), and a multimedia CD/book (Un)Broken: Songs My Father Taught Me.

You might also like…
At the beginning of each of our book study group calls, we have a check-in where everyone shares about their week. In last week's call, I noticed how every single person had a smile on their face during that time.  They talked about the good things that happened. Even...
read more
[inf_infusionsoft_inline optin_id="optin_5"]