I recently sat on the back deck with a glass of water, while Luna rested at my feet.
We had just returned from our evening walk, something that has become our routine. The fireflies and the fairy lights I strung along the side of my deck made me smile. "I'll be 50 in a few days," I thought.
The way I envisioned my big birthday included fairy lights – although not on my dilapidated deck, but on one of the beautiful vacation spots in Croatia.
I looked up at the sky. "It looks just the same from here as it would from some special place," I said out loud, as if Luna could understand me.
What makes any place magic, is how present we are in it, and how we feel at that moment. What surrounds us is just the backdrop 🙂
I'm sure you've experienced being in the most beautiful place but not feeling well – whether you were tired, stressed out, in pain, frustrated – and you couldn't really enjoy the beauty around you.
Or you've found yourself on a gloomy day sitting on a city park bench with a sweetheart, and the busy traffic and gray concrete buildings, and trash everywhere seemed to disappear.
If everything went according to my plans, I would be in a Croatian villa resort and just as excited about music and books I get to write and share. I would be just as grateful for all the blessings in my life.
I would be celebrating 50 years of adventures, loves and successes and honoring all the failures, hurts, breakdowns and difficult challenges, just the same.
I would also be feeling just as tired from the storms I weathered over the past few years. I would be feeling just as whole and peaceful and content, no matter where I was going to throw my big party.
Everything around us changes according to the filter we see the world through – the filters our minds and our emotions create for us.
The biggest gift I have today is that – through therapy and practicing mindfulness, and with the help of friends, mentors and artists – I learned to observe these filters and be aware of the ways in which I allow them to shape my reality.
AND NOW…
This is exactly what I wrote about in my new book (Un)Broken – how our hurt, and our unhealed brokenness can make something beautiful look ugly – and how when we heal, we see beauty even in the broken parts of ourselves.
So here it is (just in time for my birthday on July 1st!):
(Un)Broken: Songs My Father Taught Me
A multimedia memoir that combines storytelling, poetry, diary entries, music and photography. A story about healing and finding oneself. 🙂

Of course, there's music with it 😉
You'll get free digital downloads with your purchase, or you can grab a physical CD *use code 50 at checkout to get $5 off!).
You can place your order HERE (books will ship out on July 15).
It will also be available on Amazon in paperback, as an eBook and AudioBook on July 15, 2020.
I'm so grateful for all the people who helped bring this to life!
My son Dante designed the cover (and drew the beautiful butterfly). The book contains the photography by two amazing photographers: Will Jordan from Franklin, TN and Michael Wilson from Cincinnati, OH. The songs were produced by Ric Hordinski and instrumental tracks recorded by some of the finest musicians around!
I hope it brings you as much inspiration and healing as it has for me.
Have a great week, and let's raise a glass to good health, an open mind and a grateful heart!

Come join our community on Patreon! I do exclusive behind the scenes videos on there and you'll have first access to new content I create! 🙂
Plus, you'll be helping me immensely during this time in which I'm left without an income from performing.

Tatiana "Tajci" Cameron is an award-winning music artist, published author, inspirational speaker, and certified transformational and spiritual life coach.
She has many passions and is dedicated to helping others while also creating an enriched life for herself and her three sons. 
When Tajci is not on the road performing gigs, she volunteers with local organizations dear to her heart, spends time with loved ones (often involving music!), and collaborates with other artists to bring creative projects to life.
Tajci's most recent projects include a meditation CD, an annual retreat & sea cruise in Croatia (that she organizes and hosts), and a multimedia CD/book (Un)Broken: Songs My Father Taught Me.

[inf_infusionsoft_inline optin_id="optin_5"]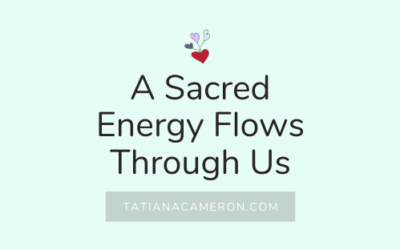 At the beginning of each of our book study group calls, we have a check-in where everyone shares about their week. In last week's call, I noticed how every single person had a smile on their face during that time.  They talked about the good things that happened. Even...
read more