Recently, I sat in my backyard with a small cup of Turkish coffee and a piece of gluten-free cinnamon toast with Irish butter (oh, so good!!!) and enjoyed the fresh morning air.
I checked my email, posted a short inspiration on my Instagram, scanned Twitter for trending hashtags (quickly and without attaching to the feelings of annoyance, haha), and messaged my mama in Croatia. 
The world is a mess, my mama is far away, I can't go visit her for her birthday, and my Facebook is still blocked.
I put the phone down and relaxed into the silence around me. I took a few deep breaths.
The peacefulness of the early morning was comforting – there was nothing that stood between me and Life, Grace, and Love. No agendas or to-do lists. No worries or anxieties. No shame about overdue projects – the walls that didn't get painted and the garage that didn't get cleaned up this summer.
For a few moments, everything melted away. I felt good just being. 
Then the words I had just read in one of the emails came back to me:
"Obstacles don't block the path. They are the path."

– Zen Proverb.
I smiled. Obstacles are the path. 
Our failures, hardships, worries, anxieties, grief, don't block our path. They help us move forward. They are our journey. They are the path. 
I used to be focused on how to remove these obstacles so we can 'run into God's open arms and experience incredible love, joy, grace, and undisturbed peace'.
But when we are too focused on removing them, we might get grumpy that they are in our lives. We are constantly waiting for some 'better time' when the obstacles are gone, and we miss out on the blessing of living through them and recognizing the gifts they are bringing to us. 
Yea, it's hard. None of us want to live through a Pandemic… or fires… or the division that's becoming really destructive to everyone.
And each of us is (hopefully) doing what we can to make these challenges go away…
But while we are in it, we can get stuck in being angry, anxious, and resentful. Or, we can observe what we do with that anger, anxiety and resentment. And then make changes that will bring us peace. 
We'll always have struggles in our lives. But we don't have to see them as obstacles that we avoid, numb from, or even just rush through them. We can accept them as a part of our journey and turn them into gifts that help us get better at recognizing Life, Grace, Love, and Joy even in the most challenging situations. 
And that takes openness. And a willingness to calm down the noises in our heads and soften up a little.
Music can help us do that 🙂 
Here is a beautiful piece that always helps me get into that vulnerable and soft place – Adagio by Albinoni played by cellist Stjepan Hauser (you might have heard of 2 Cellos – Hauser is one of them!) 
This particular performance that I'm linking to filmed in my hometown of Zagreb. This is the music hall where I performed as a 4-year-old, and where the Eurovision Song Contest was held when I participated. As a music student, I sat in the audience soaking up hundreds of classical concerts and symphonies.
I met Hauser at a concert in Kentucky when they were just starting to get international fame. He was so excited to meet me and wanted to take a picture with me. He told me how he loved one of my hit songs when he was four years old. LOL 🙂 He is a really really great cellist! 
Simple melodies are the hardest thing for musicians to play well. Because it's not about skill, but about expressiveness. And expressiveness requires the artist to be vulnerable and open and to tap into emotions, while maintaining the composure and presence of mind. It's not as easy as it seems when you watch the masters do it.
Music is meditation.
Music is meditation.
It's a prayer without petition that prays itself in the language of my heart
Without my doing, without my trying to control it.
Without a need to understand…
Music cuts through the layers of all that piles up inside of me during the day,
Shatters them into pieces and washes them away like summer rain.
Music slows my mind and reminds me that time seeps away
And doesn't wait for my to-do list to be completed.
It holds my attention and
I feel safe and loved and completely present.
Music takes me into the memory banks where the pictures of my kids laughing
And growing and falling and sleeping in my arms become alive again
And I smile free of anxiety, fear, or worry.
It brings up the summer kisses and Christmas blankets
And hands held tight before we said goodbye.
It announces new sun drenched days and nights that taste of salty ocean air
All of it comes and passes through
As I close my eyes and listen
To each plucked string and bowed melody
That moves my thoughts and my emotions along
So nothing gets stuck again.
Music takes six minutes and fifty six seconds out of my day
That I might have wasted on checking out my Instagram, or Twitter
Looking for something that I already have.
And when the song is over, I find myself smiling
And my eyes burn with the sweet taste of tears of gratitude
And joy and peace.
Ah… music.
Divine gift
We so often forget is there…
What are the obstacles in your life that are a part of your path – or are the path itself?
What lessons are they teaching you?
What happens when you switch your efforts from 'remove' the obstacles to grace to 'accept' them?
What obstacles in your life are patterns that you are repeating – thus staying stuck in a cycle?
Spend some time this week and reflect!

Tatiana "Tajci" Cameron is an award-winning music artist, published author, inspirational speaker, and certified transformational and spiritual life coach.
She has many passions and is dedicated to helping others while also creating an enriched life for herself and her three sons. 
When Tajci is not on the road performing gigs, she volunteers with local organizations dear to her heart, spends time with loved ones (often involving music!), and collaborates with other artists to bring creative projects to life.
Tajci's most recent projects include a meditation CD, an annual retreat & sea cruise in Croatia (that she organizes and hosts), and a multimedia CD/book (Un)Broken: Songs My Father Taught Me.

[inf_infusionsoft_inline optin_id="optin_5"]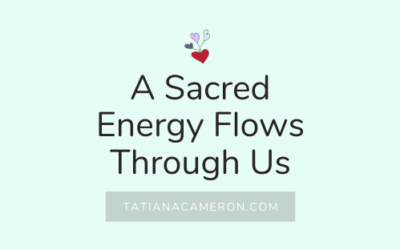 At the beginning of each of our book study group calls, we have a check-in where everyone shares about their week. In last week's call, I noticed how every single person had a smile on their face during that time.  They talked about the good things that happened. Even...
read more