When I write, I think of all of you who send messages to me and share your experiences, your challenges, your struggles, and graces. Through these, we connect – and right now, that is a huge gift.
Please know that, with each message I read, I send you prayers of love, healing, peace, and grace – even if I don't get to reply to you right away. 
Today, I wanted to share many moments I experienced this past week – like taking a short trip to Asheville, NC with my friend Kim and enjoying the mountains and fall colors, and laying on the grass at the Biltmore Estate, watching the clouds roll by and time stands still (we were both quiet, and relaxed, fully present, and it was just magical).
I find that moments like those contain the mystery of life and love and joy and peace and Divine presence. 
I listen to my heart that guides me to the stories (they always begin in my heart as a notion, form themselves into sentences in my brain, and then type themselves out through moving my fingers over the computer keyboard).
The practical voice in my head interrupts with thoughts like "But it's Halloween, and a Blue Moon, and the weekend before elections, and daylight savings time ending, and All Saints Day, and All Souls Day and Dia de Los Muertos… you should write about…" 
And then it gets quiet. It realizes that the mystery of life, love, peace, and Divine presence pretty much covers all of that 🙂 
For the past few months, I've been immersed in writing my memoir.
I'm due to finish the first (very rough) draft on November 9th, so this past week I announced to my family that I'd pretty much disappeared into a black hole of the creative process.
It's a big, huge project: I'm not just writing. I'm reading my journals and reflecting on the 42 years of moments and events (I started journaling when I was 8). I re-live them again and find something else beautiful, hard, puzzling, embarrassing, fun, and heartbreaking – all the stuff our lives are made of, whether you are a singer, or a cobbler, single or married. 
I came across a moment in which I was holding my father's hand in his hospital room. I really didn't want to be there. I was uncomfortable to face all that pain and fear (and guilt of moving to America, far away from him and my mama, missing out on so many family dinners, gatherings, and everyday coffees).
But I knew I didn't have much time left with him, and so I worked through the uncomfortable part. "I'd like to run away from it all, and live somewhere so far away – where memories either don't exist or are healed." I wrote in my journal. 
Each of those minutes that I stayed – with all the pain and anxiety – was also full of the mystery of life, love, peace, and Divine presence. 
As I would tell my kids when they were little, and as I wrote in my book (un)Broken: pain is there to remind us how much we love and are loved. 
So, as we step into the next few days – carving pumpkins and roasting pumpkin seeds (give the candy away, eat the seeds :)), look up to admire the full moon, light the candles for those who have passed away but will never be forgotten. Take each moment in, knowing that they are always sacred and beautiful. 
And then, go vote on Tuesday (if you haven't already) and bring your whole heart with you – your compassion, your love, your pain, your caring spirit. And bring the fear with you if she shows up – just don't let her cast the vote instead of you. 
Keep your heart present and feed your soul – and your mind – with poetry, music, and stories of hope. 
Here are a few pieces that showed up for me and inspired me this week:
Story
I found this in one of my diaries: 
What is life?
It is the flash of a firefly in the night.
It is the breath of a buffalo in the wintertime.
It is the little shadow which runs across the grass and loses itself in the sunset.

– Chief Crowfoot
Music
If you haven't seen the movie "Pay it Forward", now is a good time to do that.
This is the title song "Calling All Angels" (the lyrics are here).
My friend Kim has been playing this song in our book study group and I find it incredibly powerful – so full of life's pain, beauty, love, peace, and Divine presence (you get the theme here ;))…

Coaching
As you go through this weekend and next week, be present, notice the moments (both beautiful and peaceful, and those challenging and hard), and write them down.
Try to write at least three.
See them in black and white on your computer screen or in your journal.
Observe how you feel when you write them down and read them back – do you want to look the other way, forget them as soon as you can, heal them, live through them, embrace them?
There are no wrong or right answers here – but as you do this, you will be practicing presence, mindfulness, and (if you encounter something challenging) resilience and hope-building.
Know that we are all connected – sharing the same mystery of life, love, peace and Divine presence. And grace 🙂

Tatiana "Tajci" Cameron is an award-winning music artist, published author, inspirational speaker, and certified transformational and spiritual life coach.
She has many passions and is dedicated to helping others while also creating an enriched life for herself and her three sons. 
When Tajci is not on the road performing gigs, she volunteers with local organizations dear to her heart, spends time with loved ones (often involving music!), and collaborates with other artists to bring creative projects to life.
Tajci's most recent projects include a meditation CD, an annual retreat & sea cruise in Croatia (that she organizes and hosts), and a multimedia CD/book (Un)Broken: Songs My Father Taught Me.

[inf_infusionsoft_inline optin_id="optin_5"]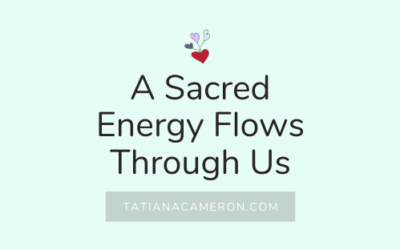 At the beginning of each of our book study group calls, we have a check-in where everyone shares about their week. In last week's call, I noticed how every single person had a smile on their face during that time.  They talked about the good things that happened. Even...
read more