"Your song brought me so much joy" was the most common comment for my "Hajde da ludujemo 2020 – Tajci & Friends" video that we released last week.
"Your song brought me so much joy and I don't even speak the language" was the second most common.
The video was shared on all major TV channels, radio stations and websites in all former YU states. It was picked up by many Eurovision sites and shared on social media.
I've been beaming with gratitude the entire week! It's an incredible gift, honor, and privilege to be a part of creating a little bit of joy – especially during a time in history when there is so much fear, uncertainty, devastation, and sadness.
And the wonderful singers and musicians who are a part of this video are all amazing, famous performers (in order of appearance): Alka Vuica, Tijana Dapcevic, Ivana Husar Mlinac, Marija Husar, Sanya Mateyas, Mia Dimšić, The Frajle, Domenica Žuvela, and musicians David Langley, Tony Miracle, Dan "Chimy" Chmielinski, and Mario Mirković.
I am especially excited that Kristina Kuzmic joined us too – she is a YouTuber (with over 1 billion views), blogger, author/comedian and winner of Oprah's Search for the Next TV Star.
It's a beautiful collaboration of amazing people that will keep creating joy for viewers (we have over 24K views and counting). Click below to watch it & share it with friends 🙂
But here is the thing:
There was a time when having joy in difficult times felt wrong.
At the signs of the first fuzzy feelings that Joy usually brings, I would stop myself and retreat into sadness. Somehow, staying in sadness felt safer.
And that didn't help anyone.
It didn't alleviate the suffering. It only added my judgment to the voices that taught me that chasing after a butterfly at a funeral – or smiling at a baby in the church during the sacred moments – was wrong.
Staying stuck in emotional pain and resisting to break its grip only makes the difficult times last longer and it makes them harder to overcome (for us and the people around us).
In one of the interviews I did this past week, I was asked what the most difficult moments in my life were. My answer was that the passing of my husband was difficult, but there was the Love, and hope and determination to keep going and to be strong for my sons.
But the truly most difficult moments were during my depression and anxiety, when I'd wake up and not want to get out of bed. When I was scared to live and laugh. And when making myself take a shower or putting on clothes felt like climbing Mt. Everrest.
The butterflies and babies and the Joy they bring are like cracks through which Grace penetrates the darkness.
And because these cracks can be the silliest and the simplest little things, it's easy to misinterpret them, ignore them, or even cover them up instead of allowing Grace to fill us up and heal our pain.
Each one of us can create these proverbial cracks for each other.
Sometimes it could be a smile, a loaf of homemade bread, or a hug (but not right now). Or, it can be a song 🙂
This week, as I sat in my office waiting to be patched into the evening news in Croatia, I thought about how good it felt to be free of the ear of judgment, to open up my heart wide and to create something out of a pure desire to put a smile on someone's face.
Hey, I just released a video in which I'm wearing a dress that I wore 30 years ago, which clearly doesn't fit me anymore (I even turn around in the last scene to show it doesn't fit) without an ounce of worry about what the tabloids might say.
It made me laugh and I hoped someone else might find it funny and freeing.
Right now, there is a lot of fear, uncertainty, devastation and sadness in our world.
We need hope.
Love brings hope. Kindness and compassion bring hope. And so does Joy.
And, music can be a vehicle for all of those as well!
Let's do more of it.
And if you're currently healing and struggling with fear and guilt – it's ok. Be kind and patient with yourself. There is no timeline for the healing process, just do your best.
Perhaps today, give yourself permission to chase the butterflies, and awaken the child within – it will find Joy and all the cracks through which the Light and the Grace are already coming in.
And then watch our video and dance to it 😉

Tatiana "Tajci" Cameron is an award-winning music artist, published author, inspirational speaker, and certified transformational and spiritual life coach.
She has many passions and is dedicated to helping others while also creating an enriched life for herself and her three sons. When Tajci is not on the road performing gigs, she volunteers with local organizations dear to her heart, spends time with loved ones (often involving music!), and collaborates with other artists to bring creative projects to life.
Tajci's most recent projects include a meditation CD, an annual retreat & sea cruise in Croatia (that she organizes and hosts), and a multimedia CD/book (Un)Broken: Songs My Father Taught Me.

I so look forward to the Saturday emails and can't wait to get to my inbox to read them! The inspiration, music, positivity, and faith….I need all of this so badly on some days. Thank you so much!
[inf_infusionsoft_inline optin_id="optin_5"]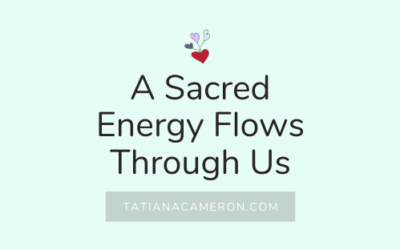 At the beginning of each of our book study group calls, we have a check-in where everyone shares about their week. In last week's call, I noticed how every single person had a smile on their face during that time.  They talked about the good things that happened. Even...
read more