I have a personal story to share with you – and a valuable tip that comes with it.
I sat in the bleachers of my son's middle school gym, holding a balloon that said "Congrats Grad!"
I felt really good: I got up early enough to get ready, to go to the store to buy a balloon, and to make it to the school without being late! For once I didn't cram too many things into my days and was ready when Grandparents came the day before (ok, maybe making that French silk pie from scratch was a little bit ambitious, but THAT really made me happy and feeling good 😉 )
Yes, it took me three sons, but I finally felt like I got it! I mastered this maddening task of being a working mom and keeping it all together, while enjoying life and all the million little things that go with it! Oh, I felt SO good!
Since I got to the school early, I had some time… I reflected on how I felt and posted on my Instagram a shout-out to all the moms whose children are graduating this month, congratulating them, while also reminding them to celebrate their kids and their accomplishments today and to remember what an honor it is being their mom!:
"Here's to all the drama you helped your child go through,
all the sandwiches and meals you made that kept them
nourished well so they brains could work and think,
all the hugs and comfort you provided when they were
overwhelmed and stressed, all the kind words of guidance,
all the times when you just listened and loved your kid and
held back from telling them what you thought they should
do or how they should be."
I got a bit emotional as I was writing it, feeling grateful for all the good and all the challenging times in the past three years… all the hard conversations I had with my child about love and grief and bullying and failing and persevering.
When the graduates started walking down the aisle, I felt tears welling up… but I didn't expect what happened when I saw my Blais. I'm convinced that the "Pomp and Circumstance" soundtrack had something to do with the outpouring of my emotions which I wasn't able to stop. (Remember, music goes right into the parts of the brain where emotions are triggered and emotional memories stored.)
At first, I tried to breathe, and redirect my thoughts, and breathe some more. But then I realized this emotion was too intense.
So I let it out. I covered my face, and sobbed. Whatever it was, it felt like a flash flood that nothing could stop. David, who came to Blais' graduation and sat next to me, put his arm around me and let me cry. I knew the only way to prevent a complete 'falling apart' was to let this pass.
The only thing I could do, apart from breathing, was to push aside thoughts such as how much I wished his dad could have been there in the bleachers being proud of him.
I just cried and breathed. In a couple of minutes, it did pass, and I felt fine. I was able to really enjoy the rest of the day by being completely present, grateful, happy and at peace. I was able to 'let go' and move forward.
When we fall, it's what we do with it that matters – whether it's about 'falling apart' emotionally or failing at something we set our hearts on.
Of course, in both cases we need support – sometimes an arm of understanding around our shoulders is all we need, and sometimes we need more serious help.
Last week I had an opportunity to coach someone through a failure. They trained for a position; they hoped, they believed, and still they didn't get the outcome they wanted. The first reaction was disappointment, then anger (it wasn't fair, it was an unjust decision, etc.), after which they just felt deep sadness and grief over a dream and a plan that wouldn't come to be.
When I asked them what they wanted to do about it, they said just feel all those feelings and then go to sleep. The next day they felt better. But then the fear of trying again, and experiencing the emotional pain all over again took over, and they felt lost. We worked through a few exercises, and with acceptance that pain is a part of love, and a failure part of every dream come true, they were back on track.
I want to encourage you to be brave with love and all the emotions that come with it – every intense love holds potential intense pain in it – as it's inevitable that there are tides and changes, beginnings and ends to everything.
Embrace life as an emotionally rich experience instead of finding a numbed and safe way out.
Vulnerability is a part of courage.
And courage is what helps us grow and come closer to Love.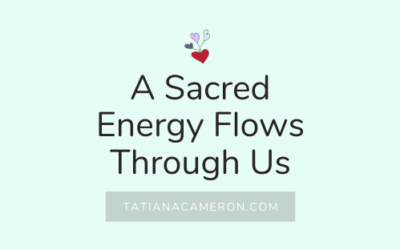 At the beginning of each of our book study group calls, we have a check-in where everyone shares about their week. In last week's call, I noticed how every single person had a smile on their face during that time.  They talked about the good things that happened. Even...
read more
[inf_infusionsoft_inline optin_id="optin_5"]