"Everything IS already different," I said to my youngest son Blais, on a recently tough day.
It will never be 'back to normal'. It may be 'forward' to a more normalized life, but definitely not 'back.'
Because we are 62 days older than we were when this started for us. We are changed. Different.
And so life is already new and different. It always is. Why fight it? Just accept it.
And breathe.
—
Our new puppy Luna Daisy woke me up early on Thursday morning. I opened the back door and watched her run out into the rain.
It was early enough that I didn't feel rushed to start my day. I checked my email and saw an announcement of this year's modified Memorial Day celebration – without the parade.
Luna came back, I wiped her paws off and let her sit in my lap. We watched the rain for a while. When the sun came out through a crack in the sky, she raised her head and looked up.
"There must be a rainbow somewhere, we just can't see it," I said out loud as if she was a toddler seeing this for the first time.
This made me think of my sons, and the past, and the parades…
Evan Amadeus and Blais would march with their band, and we'd all get so excited. The Memorial Day Parade was one of the highlights of the end-of-school activities.
"No more parades for Evan," I thought and a rush of tears soaked my face. No more band, no prom, no high school hallways, no lunches. That's it.
Luna moved to get into a more comfortable spot (she is the kind of puppy that likes to be near people, but definitely likes her space), and I got up to get my coffee.
I grabbed my journal to write my thoughts down and process this grief I was suddenly feeling.
"I can't see the rainbow. Just the rain right now." I wrote.
The rain had triggered the grief around all we are losing with this pandemic.
The grief brought up thoughts – and memories – that were connected with feeling sorry for myself and for others whom I love so much – those who I always wished to protect from loss and the emotional pain it brings.
But the only thing I can do is to help them learn how to get through hard stuff.
And this is what I know:
When we realize that we've lost something we are deeply attached to, we have to be willing to let go of it – and the pain it brings.

We need to say "I lost it, It will never be again. It's gone." and grieve it. Honor how it feels – sad, hurt, pained, tight around our heart, hard to breathe.
The tears will come. And we will say 'goodbye' and move forward.
But if I sit in that spot in my pain, letting the tears come but thinking "I wish it was different. I wish it didn't happen this way.
I wish I was sitting in a different spot from which I could see the rainbow…" then I'm just getting caught up in a net of my unwillingness to let go. And I get more worked up – anxious like a fish that doesn't' swim up and away, even though it could.
I closed the journal and took a deep breath. The tears were gone – flowed away with the words I wrote on the page. I took a sip of coffee. I was ready for the day. Without any heaviness. Without any aching.
I was ready for the new.
That evening, Dante, Blais and I took Evan to a rooftop restaurant in Nashville (they just opened, servers wore masks, and there was plenty of space for safe social distancing).
As we were driving up, it was raining. The sun came out for a moment, and a double rainbow showed up for us. It was bright and happy and ours to take in.
And the song that was playing from Evan's playlist at that very moment was "Smile."
Yea, I could have cried right then too… wishing that things were different. Wishing that his dad, Matthew, was with us…
Wishing that the whole family was with us, that tomorrow we would have the ceremony as planned, that our town was alive with people, that so many people didn't have to die from this illness, that there was no cancer, no bad things happening to good people…
Wishing, wishing, wishing, and crying, and feeling anxious, and sad, and getting caught in the net instead of letting go.
Swimming up and freely taking in the Joy that the very moment brings to us.
The next new moment.
So…
Are you ready for the new?
(Ready is when you are willing to let go of the 'wishing' and when you're willing to trust that the rainbow will show up when you are at a place from which you can see it.)

Tatiana "Tajci" Cameron is an award-winning music artist, published author, inspirational speaker, and certified transformational and spiritual life coach.
She has many passions and is dedicated to helping others while also creating an enriched life for herself and her three sons. When Tajci is not on the road performing gigs, she volunteers with local organizations dear to her heart, spends time with loved ones (often involving music!), and collaborates with other artists to bring creative projects to life.
Tajci's most recent projects include a meditation CD, an annual retreat & sea cruise in Croatia (that she organizes and hosts), and a multimedia CD/book (Un)Broken: Songs My Father Taught Me.

[inf_infusionsoft_inline optin_id="optin_5"]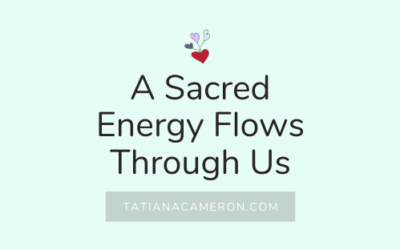 At the beginning of each of our book study group calls, we have a check-in where everyone shares about their week. In last week's call, I noticed how every single person had a smile on their face during that time.  They talked about the good things that happened. Even...
read more