The other day I got an A+ from my doctor. I'm healing beautifully, she said.
Well, I followed her recommendations, did a little bit of research on my own, and mostly followed her advice that most resonated with me: listen to your body.
"Any issues?" She asked me. "Patience." I said and we both chuckled. "No, seriously, that's really been my only issue." I said again, adding how I thought I did pretty good with resting and allowing my body to heal 🙂 
I told her the hardest thing was to know when to push myself through the pain, and when to stop. 
This is not a new challenge for me. I had written several blog entries on this topic.
This wisdom (that comes through discernment, awareness, and mindfulness) of finding the right balance between pushing through the pain and knowing when to stop, is the secret of moving through life with a healthy body/mind and a healthy dose of motivation. 
More we practice it, the better we get at it.
The only thing is, we ALWAYS have to check in with ourselves and pay attention to that balance, because our situation, our bodies, and our minds always change.
What worked in the past, won't be the same now. 
I used to sleep in car seats that didn't recline when we would pull an all-nighter on our tour and I practically danced out of the vehicle. Not anymore… LOL. 
Which brings me to my next point:
Yesterday I slept on the couch so I could let Luna out because she wasn't feeling well. And I woke up with a horrible crick in my neck. So, after I came home with my A+ report, I had to lay back down and listen to my neck. 
I guess I get to spend a little more time with Patience 🙂
And practice working through the pain AND listening to it. 
Like my good friend Kim Belew says: I'll sit with pain but I won't build my house there.
Speaking of Kim. She is a spoken word artist who hosts a 'virtual' book study. Our next book will be (un)Broken! How cool is that!!!
I'll let you know how it goes, and if you like, I can help you host your own book study – I'll even pop in to give some special 'authors' insights 🙂
Have a great week and let me know in the comments below if anything came up for you about pushing through pain. 

Tatiana "Tajci" Cameron is an award-winning music artist, published author, inspirational speaker, and certified transformational and spiritual life coach.
She has many passions and is dedicated to helping others while also creating an enriched life for herself and her three sons. 
When Tajci is not on the road performing gigs, she volunteers with local organizations dear to her heart, spends time with loved ones (often involving music!), and collaborates with other artists to bring creative projects to life.
Tajci's most recent projects include a meditation CD, an annual retreat & sea cruise in Croatia (that she organizes and hosts), and a multimedia CD/book (Un)Broken: Songs My Father Taught Me.

[inf_infusionsoft_inline optin_id="optin_5"]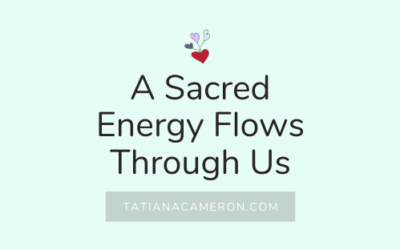 At the beginning of each of our book study group calls, we have a check-in where everyone shares about their week. In last week's call, I noticed how every single person had a smile on their face during that time.  They talked about the good things that happened. Even...
read more